"Med-Quest EDC is filled with powerful, flexible tools that save you headaches, not make them"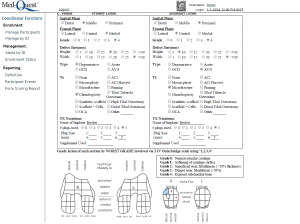 ePaper Case Report Forms™
The next generation of eCRFs
ePaper gives you a familiar easy to use paper-like interface with the advanced capabilities offered by our clinical EDC system.
Custom forms with data entry constraints can quickly be added to your form library by our expert ePaper team.
Even the most complex forms are easily replicated. From simple checkboxes to selecting the affected body part from an image.
Standard forms preloaded in their original format means you'll never waste time and resources revalidating scored forms.
Easily reuse forms across multiple protocols with our built in form library. Never recreate a form again.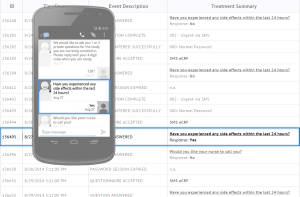 Optimized Data Entry
Efficient data entry with robust quality checks
Data is brought into your EDC system quickly and effortlessly with edit checks run in real time, preventing costly queries down the road.
Enter data from virtually any source including:

Participant web portal
Outbound Interative Voice Response call (IVR)
Electronic drop box

Unique ePRO and eCOA features offered only by the Med-Quest Clinical EDC.
Directly populate form fields with data from a variety of wired and Bluetooth® CLIA waived health devices including:

Blood pressure
Blood glucose
EKG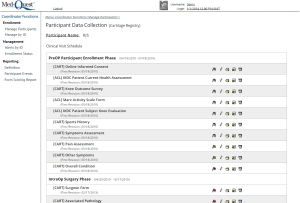 Complex Clinical Planned Events
Robust automated solutions
Schedule events for the entire length of the study and let them run with no user intervention required.
Schedule prompts for participants to enter their data from anywhere in the world using your preferred input method, or simply remind them to schedule a visit.
Create complex, overlapping and conditional clinical planned events with an easy to use CPE builder.
Save time by reusing regimens from your library across any number of clinical planned events.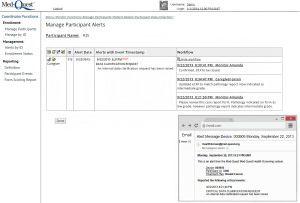 Simple, Powerful Query Management
Smart tools for managing data clarification
Improve your query management workflow by improving communication between members of your team.
Easily alert relevant team members of data discrepancies.
Quickly assess study progress with a comprehensive investigator dashboard.
Track participant's progress at a glance with clear visual indicators of events pending, completed or in need of attention.
Quickly view form status overview, open queries and more in the blink of an eye with preconfigured reports.
Build custom reports using Med-Quest Data Query functions.